[Game] Super Street Fighter IV: Arcade Edition [Update 2]
(2011/ENG/RIP by TeaM CrossFirE)
Information
:
PC Game | Developer/Publisher: Capcom | 2.64 GB
Genre: Arcade (Fighting) / 2D
Source: http://www.heroturko.com/games/pc/1870716-super-street-fighter-iv-arcade-edition-update-2-2011engrip-by-team-crossfire.html
Super Street Fighter IV Arcade Edition develops the ideas and principles of SF IV. The game features a first-class collection of characters - both familiar from previous episodes of Street Fighter, and new - who will take part in the classical two-dimensional battles in the best tradition of the series. T. Hawk, DJ, Guy, Cody, Adon - in the arena of brutal fights converge all the fighters from Super Street Fighter IV, and the company they will make four new characters: the brothers Yun and Yang, and evil nature Ryu. Many of the key features of the original Street Fighter IV and Super Street Fighter IV in this game brought to perfection. Without a doubt, fans of the legendary series of fighting games will appreciate the advanced online mode, improved ultrakombinatsy and other progressive changes ...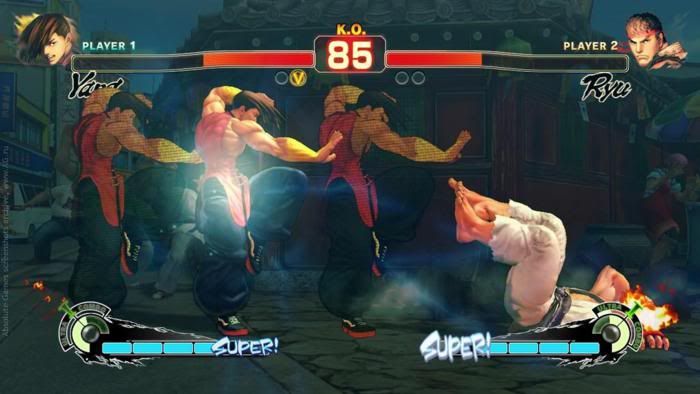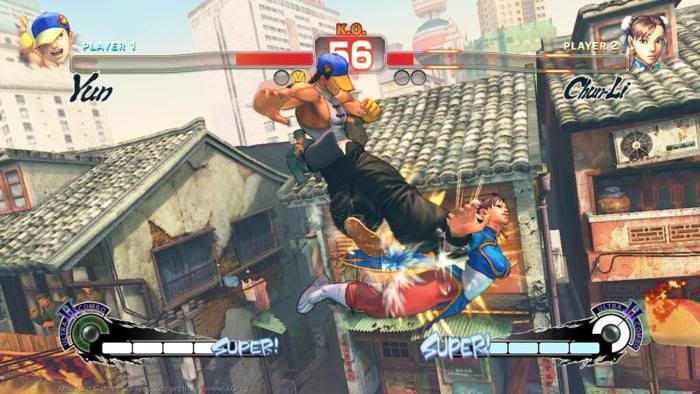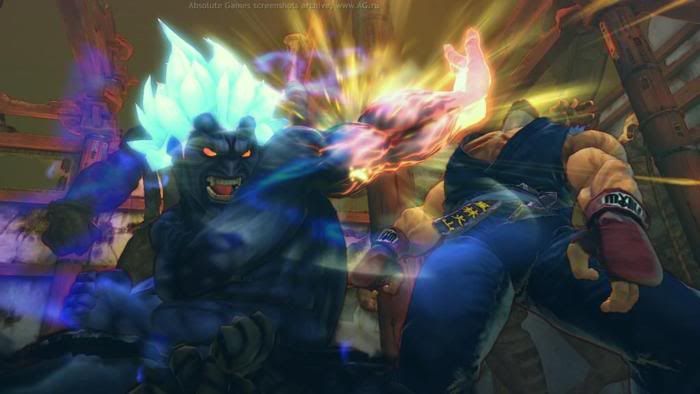 Features:
- Classical and Modern Super Street Fighter IV Arcade Edition - a classic two-dimensional fighting game, such as in the old games of the series. However, the heroes and the world is actually fully three-dimensional and are created by modern technology. If you use special attacks becomes an image volume, so the special moves look extremely impressive
- For beginners and veterans in the Street Fighter IV Arcade Edition takes into account the preferences experienced players of the series, but it has everything, so that newcomers feel comfortable in the world renowned fighting game. Both will find themselves testing their strength. Management has traditionally carried out by six buttons, and the battles take place in two-dimensional plane
- At full strength. The game features all the fighters Street Fighter IV and Super Street Fighter IV, and any of them can be chosen from the outset
System requirements:
- Operating system: Microsoft ® Windows ® XP ™ / Windows ® Vista ™ / Windows ® 7even ™
- Processor: Intel Pentium 4 2.0 GHz or equivalent AMD Athlon 64 2000 +
- Memory: 1 GB (Windows XP) / 2GB (Windows Vista / 7)
- Video: 3D-graphics adapter with 256 MB memory, compatible with DirectX ® 9.0 and supports Pixel Shader 3.0 (Nvidia ® GeForce ® 6800 Ultra / ATI ® Radeon X1800 GTO or better)
- Sound: Sound card compatible with DirectX 9.0c or DirectX 10
- Free space on your hard disk: 10 GB
- Additional software: DirectX 9.0c or DirectX 10
- Controls: A keyboard and mouse
Features RIP'a:
- It is based on the license - Capcom -
- Audio quality is 100%
- Video quality is 100%
- Cut videos, Japanese voice, and all languages ​​except English (voice and English interface)
- Do not recoded
- Enclosing a tablet from SKIDROW
- Sewn Update 1 & Update 2
- Ways to save registry
- Requires at least 1 + GB of RAM for installation
- Requires at least 7 + GB of free space on HDD
- Run the game from a shortcut on the desktop
- Installing additional. Software: DirectX, VisualC + + Redist
- Setup time: ~ 10-15 minutes ~
- RIPed by [TeaM CrossFirE]
Help Us to click on Facebook Like one more....!
Download URL:
Filesonic
http://www.filesonic.com/file/3962008254/SSFighterIV_AEdition.part1.rar
http://www.filesonic.com/file/3962008234/SSFighterIV_AEdition.part2.rar
http://www.filesonic.com/file/3962008184/SSFighterIV_AEdition.part3.rar
http://www.filesonic.com/file/3962008314/SSFighterIV_AEdition.part4.rar
http://www.filesonic.com/file/3962072764/SSFighterIV_AEdition.part5.rar
http://www.filesonic.com/file/3962072744/SSFighterIV_AEdition.part6.rar
http://www.filesonic.com/file/3962008284/SSFighterIV_AEdition.part7.rar
Fileserve
http://www.fileserve.com/file/nfcs7Vg/SSFighterIV_AEdition.part1.rar
http://www.fileserve.com/file/8q87g4u/SSFighterIV_AEdition.part2.rar
http://www.fileserve.com/file/fWN8x8b/SSFighterIV_AEdition.part3.rar
http://www.fileserve.com/file/wuy7JnK/SSFighterIV_AEdition.part4.rar
http://www.fileserve.com/file/KUnzvP5/SSFighterIV_AEdition.part5.rar
http://www.fileserve.com/file/4Fs8dqv/SSFighterIV_AEdition.part6.rar
http://www.fileserve.com/file/QZKn2XM/SSFighterIV_AEdition.part7.rar